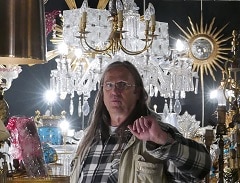 After few times in the laboratory chemistry and creatings ROCHAS Perfumes, Pascal Weitz developed his taste for the beautiful one, the colors, the perfumes and textures.
At 58 years, they are thirty years already that he married the trade of antique dealer while beginning in one from these famous handing-over at the Flea market, street Lecuyer.
After a trade-guild in restoration all matters, he invested the Market Paul Bert like Serpette and Biron and becomes an active member of friendly Chips to contribute to promote the profession.
Pascal Weitz becomes inescapable and collaborates with the international decorators more sails about it with a enormous choice with 14 shops and proposes them single parts dedicated to new magic destinies.
Originality, Authenticity and Guarantee are our policy, no copies and we can exchange for the satisfaction of our customers.